Your next mission: Enriching the future with Nestlé
Integrity. Teamwork. Excellence in all you do. These are values that are fostered in a career with the military. And at Nestlé USA, these are values that we embrace. We honor the talents and contributions of current and retired members of the U.S. military. If you're weighing your next career move, bring your unique training and skills to our team.
You Might Be Interested In:
Our military-experienced employees come to us with a vast range of skills and experience. Meaning, they fit just about anywhere within our organization. Learn more about some of these types of opportunities by making a selection below.
Employee Profiles
THE PEOPLE WHO DRIVE OUR STORY
Across our organization, there are stories of learning, challenge, teamwork and success. Get to know our people—and discover the voices behind the brands.
Tim

U.S. Army Veteran,
Nestlé Factory Manager

"Nestlé has learned that leadership is a key component to success. Leadership is what it takes to win. Nestlé's focus on putting people first, and setting specific goals within a performance-based culture is exactly what we did in the Army. And it's what we do here, too."

Sarah

U.S. Marine Corps Veteran,
Nestlé Integration Manager

"The ability to see the big picture and to think on your feet, and the leadership experiences veterans bring to the table—these are all things that Nestlé values."

Ray

U.S. Army Veteran, Nestlé Safety
Health & Environmental Manager

"Truth, integrity, standing up for what you believe in—they are very much all Nestlé values."
Events
Discover What Awaits.
Join us at one of our upcoming events to learn more about who we are and why Nestlé USA is a great place to build your future.
Related Content
Want to learn more about what interests you? Here's some additional content we think you might enjoy based on your previous selections.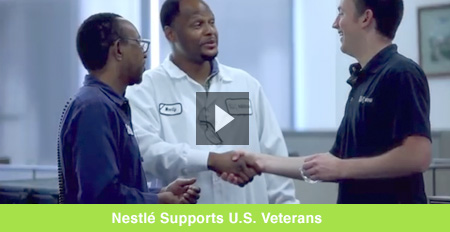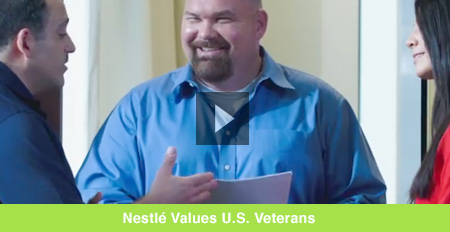 Locations
We're leaving our mark on nutrition, health and wellness with locations from coast to coast.
Check out our corporate, manufacturing, sales and distribution center locations across the U.S.
View locations »